Services
Technical Media

ENG equipment and non-lineal editions AVID Media Composer. Means specially developed for recording in the outside and that offer the whole series of revolutionary services to optimize the work flows. CBM is the biggest services provider in XDCAM format.
---
Post production

Rooms of post production of videos, audio, and graphics for the programs edition, series, and corporative videos. We adapt ourselves to your necessities, offering all of our services of postproduction from 1 hour of rent, days or long periods.
---
Where are we?
The main cities CBM has operative centres from which they cover all the national territory.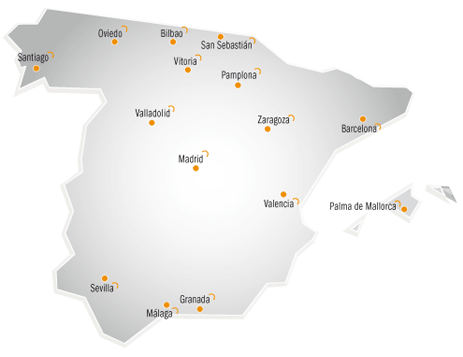 List of CBM centres:
GRANADA
Puerta Real de España, nº 1 - 1º B-Dcha 18009, GRANADA ESPAÑA
+34 958 216 898
+34 958 221 690
MADRID
Fernando Rey, 8, Ciudad de la Imagen , 28223 Pozuelo de Alarcón - MADRID
+34 91 512 23 37
+34 91 512 23 47
---
Avd. Isla graciosa 7, planta 1ª, oficina nº 12, 28703 SAN SEBATIÁN DE LOS REYES – MADRID
+34 91 652 84 30
+34 91 651 64 40
---
EDIFICIO SIGLO XXI
C/Isla del hierro 5, planta baja oficina nº 6 28703 SAN SEBATIÁN DE LOS REYES – MADRID
+34 91 652 43 92
+34 91 658 87 93
SEVILLA
Parque Empresarial Vega del rey, Edificio Vega 2, 1ª Planta, C/Judería, 2, 41900 Camas (Sevilla)
+34 902 109 237
MÁLAGA
C/Peregrino 3, 1º, Edifício ONCE, 29002 Málaga,
+34 902 109 237
SANTIAGO DE COMPOSTELA
Monte dos Postes, 14 Bajo, 15703 Santiago de Compostela (A Coruña)
+34 902 109 237
OVIEDO
Cervantes, 27 5º Piso, 33004 Oviedo
+34 902 109 237
BILBAO
Cº de Capuchinos de Basurto nº 6, 1er Piso, Dep. 17, 48013 Bilbao
+34 902 109 237
SAN SEBASTIAN
Federico García Lorca, 10 4º Izq, 20014 San Sebastián
+34 902 109 237
VITORIA
C/ San Prudencio Portal 8ª Planta 5º, 01005 Álava
+34 902 109 237
PAMPLONA
C/ Cortes de Navarra,1 Bis 1º , 31002 Pamplona
+34 902 109 237
BARCELONA
Gaspar Fabregas, 81, 08950 Esplugas de Llobregat (Barcelona)
+34 902 109 237
ZARAGOZA
C/ Pinares de Venecia s/n, Parque de atracciones, 50007 Zaragoza
+34 902 109 237
VALENCIA
C/Profesor Beltrán Báguena, 4 bajo, 46009 Valencia
+34 902 109 237
VALLADOLID
Plaza Mayor, 23 2ºA, 47.001 Valladolid
+34 902 109 237
PALMA DE MALLORCA
C/ Foners, 7, Edificio de la ONCE, 4ª Planta, 07006 Palma de Mallorca
+34 902 109 237